Website Development Services
Attract new clients, increase revenue, and craft a stellar customer experience with a fully-featured, reliable, and exquisite website.
Get Free Consultation
We design and develop responsive, fast, and user-friendly websites and landing pages to help you unlock the potential of your businesses. Whether you need to increase conversion or improve the brand awareness we know how to build a great website to help you accomplish the goals.
Website Development Services We Offer
Building websites from scratch
We develop scalable, responsive, and secure websites that help businesses transform digitally, build a winning reputation, and grow.
Fine-tuning existing websites
We upgrade existing websites making them fully-featured to drive more value to your company: increase conversion rate, attract a loyal audience, and hence increase sales.
Design & Re-design
We create functional and striking designs to make your company noticeable and improve your brand awareness.
Website support and maintenance
We provide post-delivery maintenance and support to ensure stability, security, and performance of your website.
Consulting services
Having strong expertise in crafting web apps for multiple domains, we provide consulting services to help you to discover areas for improvement and offer cherry-picked practices to boost conversion.
Web Solutions We Create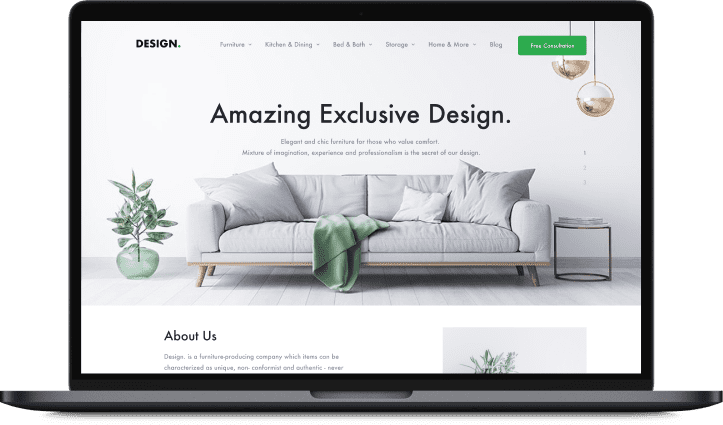 Landing Page
Convert visitors into leads with an efficient and actionable one-page website that contains the essence of your services.
Gather visitors' data
Convert visitors into leads
Need a Website to Give a Digital Boost to Your Business?
Get in touch with us to learn how our expertise can advantage your business' growth.
Contact Us
We Develop High-Quality Websites
Compatible with all modern browsers
Compliant with technical standards
Responsive on all devices
Clear and user-friendly
Designed to highlight your brand's identity
Optimized for search engines
Integrated with marketing services and analytics tools
Extensively tested
Step-by-Step Development Process
Communication on the client's vision and needs
Sales Manager, Business Analyst
After receiving your inquiry, our sales manager will reach out to you to learn more about your needs and clarify your requirements.
2
Planning & Conceptualization
Business Analyst, Tech Lead, UI/UX Designer
The next step is to put your goal into a viable plan and build a roadmap. For this, our business analyst, tech lead, and UI/UX designer will dig deeper into your objectives and pain points to come up with the site structure and plan navigational scheme.
3
Design
UI/UX Designer
On the design stage, your future site gains its appearance. Based on specifications created by a UI/UX specialist and taking into account your requirements, the designer creates mockups to make your website visually appealing, clear, and user-friendly.
4
Development
UI developer (HTML, CSS, JS), Backend developer
Once the mockups are ready, the UI developer gets down to work. He creates new pages, their structure, and logic. Then the backend developer integrates third-party services such as management systems, mail services, payment systems, etc.
5
SEO
SEO specialist
On this stage, your website is almost ready for release. To make sure it is optimized for better indexing and higher ranking in the search engines, the marketing team will optimize your content and work on internal site optimization: meta tags, robots.txt, sitemap.xml, rich snippet preparation, google analytics setup, etc.
6
Testing
QA engineer
Our QA team will thoroughly test your website to make sure it works flawlessly and looks pixel-perfect on different browsers, operating systems, and devices.
7
Stabilization and performance optimization
Frontend developer
On this stage, the development team will resolve the issues uncovered by the QA team and optimize the performance of the website.
8
Launch
DevOps engineer
Our DevOps engineer will help you choose the best suitable hosting provider, create production environment for optimal cost/performance balance, deploy the website, configure DNS and CDN and make the site go live.
9
Support
Development team
Our developers will maintain your site's stability and performance, install necessary security updates, prevent and resolve issues and make changes at your request. We provide post-production support on a regular basis or on-demand.
10
FAQ on Website Development Services
Clients' Testimonials & Awards
They're a great group of developers who really understand the reality of business.
Andreea Vanacker
CEO SPARKX5
Itexus excelled at both experimental AI and sprint-oriented UI/UX tasks. Itexus did strong project management work, too, a necessity in such a complicated project.
Jesse Dubin
Senior Product Manager
Standard&Poors
The assigned team was easy to work with and they are especially strong collaborators and communicators. They demonstrated flexibility, professionalism, and trust in everything they did, and completed the work on time and budget.
Sue Wollan Fan
CEO Mango Connects
Itexus' work positions the business well for an imminent launch. They excel at managing their team, presenting frequent product demos to ensure that the project is aligned with development goals. An affordable price structure coupled with remarkable technical skill makes them an attractive partner.
Phill Osolinski
CEO Ryze Rewards
Contact Form
Drop us a line and we'll get back to you shortly.
For Quick Inquiries
Offices
Australia
Level 20,109 Pitt Street, Sydney, NSW, 2000
Belarus
20a Internacionalnaya Street Minsk 220037