The importance of digital wallets in the modern environment is undeniable. People across the globe have started shifting from cash to digital payments, and this trend becomes particularly noticeable if we look at today's generation, especially millennials. Youngsters prefer to have faster, flexible, and more convenient payment options. The main benefits of using digital wallets are contactless payments and purchases and instantaneous monetary transactions that enable users to send or receive money in a snap.
However, there are some concerns about e-wallet apps. The major one relates to online payments' security. Some users may think that making payments online is a threat to their personal account information. Others worry that the device can get lost or their account can get hacked.
To deal with such concerns and misconceptions, companies that consider entering the e-wallet market should choose a digital wallet development company with the utmost care. To help you decide on it, we have shortlisted the best-of-breed ewallet development companies. Check them out:
Itexus is a finance app development company that employs vision-forward technologies and integrations to deliver custom mobile & web wallet solutions for both businesses and their customers. The team of experts will build a fully protected and easy-to-use eWallet app with superior UI/UX design.
Explore the Itexus expertise in ewallet apps development to get actionable ideas for your project.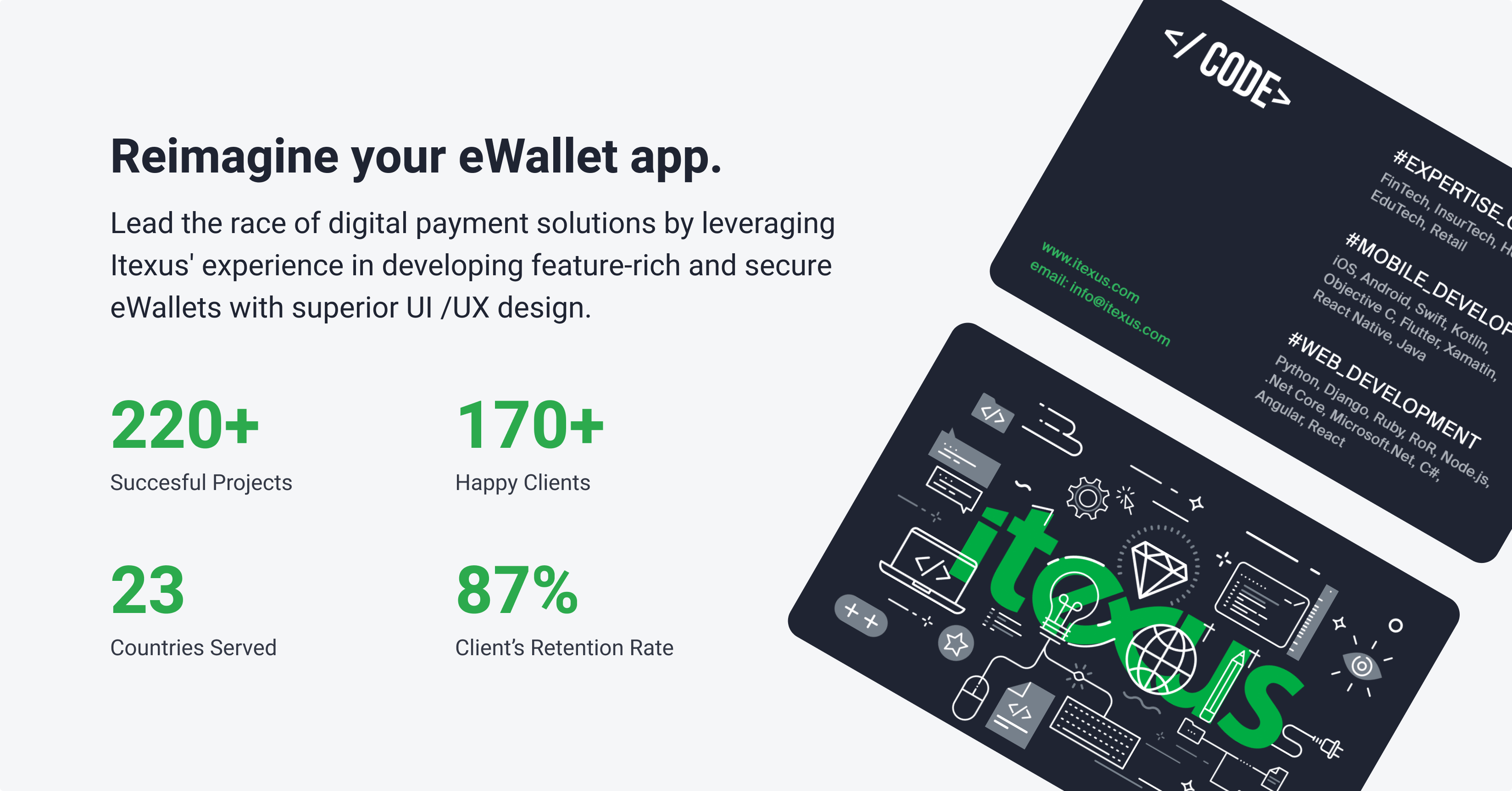 2. SemiDot Infotech
SemiDot offers both customized and on-demand e-wallet app development solutions that are highly secured. The team uses the latest tools and technologies and strives to deliver best-in-class mobile wallet services for businesses of all kinds.
3. Fortunesoft IT Innovations
Fortunesoft is a digital wallet application development company that holds expertise in delivering innovative applications. Their digital wallet solutions offer next-generation payment systems with multiple functionalities and services on a single platform.
4. Nimble AppGenie
Nimble AppGenie offers feature-rich and fully-protected eWallet App Development Services for Android, iPhone, and Wearable Devices. The team has a huge stack of features readily available to infuse into the client's mobile payment app from third-party online services payment integrations to USSD payments for feature phones.
5. Fexle
Fexle team delivers mobile payment development solutions to a diverse range of industries. The solutions may include NFC integration, hybrid mobile wallet services, integration with Bluetooth & iBeacon technology, QR code configuration features, & cryptocurrency wallet development.
6. Chetu
Chetu programs custom mobile wallet solutions that enable users to manage digital debit and credit cards, prepaid gift cards, different cryptocurrencies, and direct access to bank accounts. The payments may be facilitated via Magnetic Secure Transmission (MST), Near Field Communication (NFC), Quick Response (QR), and Peer-to-Peer (P2P).
7. Octal IT Solution
Octal constantly scales their technology stack, so their clients can expect nothing less than top-tier ewallet app development services. The team is not simply integrating the features of any payment gateway, but bringing on the screen an interesting mobile interaction experience that can help customers make payments in a hassle-free manner.
8. AppClues Infotech
AppClues provides digital wallet app development services to deliver secure, safe, and fast online commercial transactions for iPhone, Android, Wearables, and other digital devices or platforms. The team of expert developers creates smart wallet mobile applications that match the client's business requirements.
9. A3logics
A3logics is a team of proficient developers who build smart e-wallet apps that are compatible with Android, iOS, and all other operating systems. Their professional developers take care of every aspect and deliver the product once it has been approved by their quality assurance team.
10. AppsChopper
AppsChopper delivers custom digital wallet development services aiming to provide cashless payment solutions for both business and their customers. Their engineers code advanced wallet apps with cutting-edge features like login screen, secure payment gateway, SMS Gateway, change password and integrate payment technologies like NFC, iBeacon and Bluetooth, QR code Configuration.
How to Choose a Vendor for Custom eWallet Development?
There are some key points to keep in mind while shortlisting a vendor for digital wallet development.
Industry Expertise
Research the company's portfolio, look for similar fintech solutions they've already done. Make sure the team is scalable if needed, and check how their previous projects perform. Examine it all carefully and don't choose the vendor if even one pillar of fruitful collaboration is missing.
There's a close correlation between the result's quality and the rates of the provider's work. Trying to cut costs in the beginning may lead to budget overrun and performance issues, so try to find a middle ground instead of sacrificing quality for a lower budget.
Support & Maintenance
Constant support, maintenance, and improvement of the existing system are crucial if you want your eWallet to be successful. Ask if and on what conditions the vendor provides further maintenance before the kick-off and only then sign the contract.
Money is a delicate subject, and users want to make sure the payment solution they entrust their finances with is highly secured. The reviews of your digital wallet must be impeccable, and they are directly related to the reputation of the chosen vendor.
Get Your Project Estimate
Getting your eWallet idea estimated is the key point when shortlisting solution providers as it states the time and budget required for developing, testing, and launching the whole app. To get one is as easy as 1-2-3 – drop us a line, sign the NDA, and we will provide a precise project estimate after a discussion call where all the aspects of development will be touched upon.