The emergence of online payment apps has changed the way we carry out monetary transactions. A smartphone with a mobile banking app enables us to promptly solve a wide range of financial issues – essentially, it's the bank in our pockets.
Along with the adoption of mobile banking, the traditional banking experience is fading away. According to American Bankers Association's report, 39% of bank clients use mobile banking apps to manage their accounts. 32% use online banking via laptop or PC, and only 10% most frequently conduct their transactions in person at their bank's branch.
Here's what drives the popularity of international payment apps:
Transaction speed. Sending or receiving money via an app usually takes a few seconds, while doing the same with traditional methods requires a few business days.
Affordability. Money transfer apps provide their users with significantly lower fees, unlike banks.
Accessibility. International payment apps provide access to financial services to the unbanked population and people who, for whatever reason, can not access a bank branch.
These features make money transfer apps a tool of choice for migrant workers. Such apps promote financial inclusion among migrants as they make it easier for them to send money to their loved ones back home in an instant. Besides, online banking apps significantly impact rural areas. According to the American Economic Journal's study, using mobile banking apps for a year resulted in a 26% increase in urban to rural remittances. The adoption of mobile banking services enabled rural consumption to increase by 7.5%, decreased the rate of child labor, and improved hours of study.
Currently, mobile payment apps are the most common method to manage finances, and this trend will continue along with the emergence of new solutions. Consider entering the fintech market with your own international money transfer app? Let's clarify what makes a great application, what features are a must-have, and where to start money transfer app development.
Benefits of International Money Transfer App
Here are some of the biggest advantages of using mobile banking.
Lower transfer fees. International payment apps charge lower fees than traditional banks since they do not have to spend money on branch maintenance.
Instant transfer. Transactions are executed instantaneously, while in banks, it takes a few business days for the money to be deposited into the recipient's account.
It's easy to make transactions through every device. With international money transfer apps, users get access to a wide range of financial services from the comfort of their couch being able to carry out transactions from any device they have on hand.
Transaction history. This feature helps to manage finances and better understand and distribute spendings.
Customer support. Whenever users need any help, customer support is there to resolve the issues quickly.
Must-Have Features for Money Transfer App
Want to learn what makes a good application? Check out our list of must-have features for an international money transfer app.
Sign-In & Sign-Up. Sign-in and sign-up functionality is a basic yet essential feature that needs to be included in your app. Keep it as simple as possible and avoid adding too many steps that could irritate users. In a nutshell, the sign-in and sign-up processes must be fast and easy yet secure.
Intuitive UI/UX. Delivering the best possible user experience is crucial for an app's success. CBI claims that 17% of startups fail due to unfriendly product design. To avoid it, consider the app interface and navigation carefully keeping in mind your target audience's needs. Your app should be user-friendly, visually appealing, and engaging to enable users to interact with it easily. Need some practical tips on designing mobile banking apps? Check out our recent article about the best practices and trends in mobile banking app design.
Security. When it comes to money transfer app development, security and data protection must be the key concern. Ensure the ultimate protection of users' sensitive data against all potential threats. For this, you can make the app compliant with legal requirements, enrich it with different options for user authentication, encrypt users' data, etc.
E-Wallet. Integrate an eWallet functionality into your money transfer app to enable users to pay easily and manage their budget effectively. This feature will significantly expand your app's scope of application and become its competitive advantage since one feature-rich app can replace several different apps.
Bill Payment. Having a single app for both sending money and paying bills is convenient. Users like convenience, they do not want to switch between different apps to perform similar tasks, so bill payment functionality would simplify users' financial routine.
Payment Statistics. This feature enables users to track, analyze, and manage their spendings and therefore make rational decisions on their finances.
24/7 Support. Providing 24/7 customer support is crucial for a money transfer app since users entrust it with their money. The best way to organize round-the-clock customer support is to integrate a smart AI chatbot into the app. It can easily attend to simple customer inquiries, answer quickly, and ensure a high level of satisfaction with your service among customers.
Notifications and Alerts. Push notifications let the users stay informed about recent transactions, important payments, and other information related to their money. And fraud alerts are crucial since they warn users on suspicious activity in their accounts and help to prevent money loss.
Currency exchange. For an international money transfer app, providing users with real-time currency exchange rates is essential. This feature helps users to manage finances better and get access to all needed information in one place, which is convenient.
International Money Transfer App Development – Case Study
Being an expert in financial software development, Itexus has an impressive track of successfully delivered FinTech solutions. That is why our client, a US-based startup, approached us for full-cycle development of the money transfer solution that would enable its users to send money from US-issued bank cards to Nigerian bank accounts. The main idea behind the solution was to provide Nigerian migrants with instant, affordable, and secure transactions.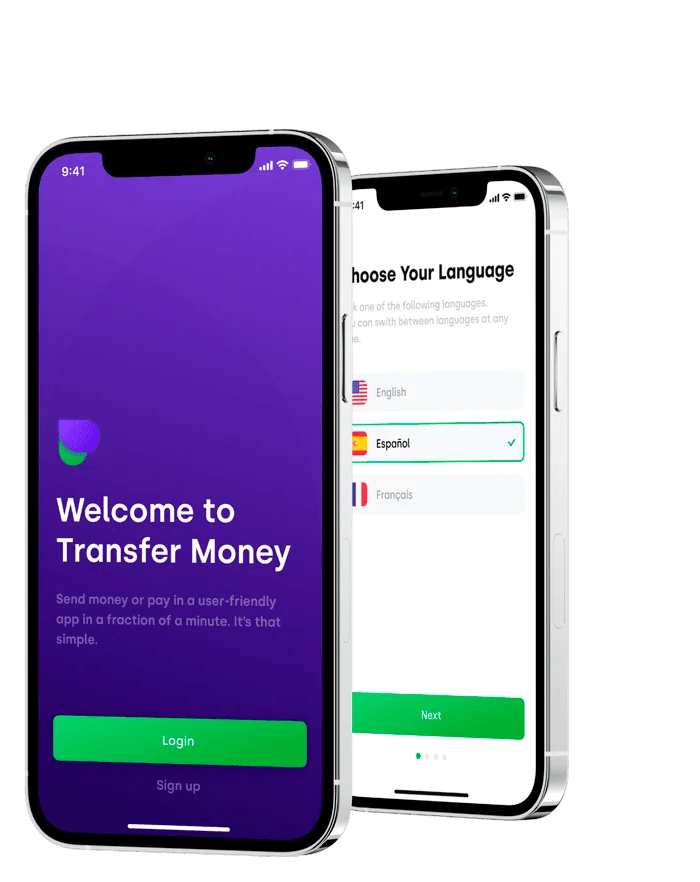 After the discovery phase, we got down to the app development. A team of Project Manager, Business Analyst, Tech Lead, iOS and Android developers, Backend and Frontend developers, QA Engineers, and Designers delivered a secure and feature-rich mobile app-to-bank transfer solution with the following functionality:
Instant money transfer from any American bank card to any Nigerian bank account
Bill payment in Nigeria, i.e. utilities, phone bills, etc.
Connection of several US bank cards to one account
Multilingual interface
Robust KYC verification system
The promo code system for running promotional campaigns
Now Nigerian migrants can send money back to their loved ones affordably and securely. Want more details on the project? Check out the original case study.
Pre-Development Things to Consider
Feel ready to kick off the development process? Start with considering some principal points we listed below to make sure you are ready to get down to the app development.
Conduct market research. Exploring the market before entering it with a new solution would provide you with key insights on the industry, your users, and competitors and help to identify new business opportunities.
Define TA. Your target audience is the greatest source of inspiration for your product. Precisely determine who your users are, explore their needs, goals, and expectations, and ideate new product features based on your findings following the customer-centric approach. This way your app is bound to succeed.
Get All the Necessary Licenses. Depending on the country you are launching your app in, you'll have to get different licenses and permissions to provide online payment services. So before delivering the product to the market, check the local laws and regulations and make sure your product is compliant with them and has all the necessary licenses. Otherwise, your app will be deemed underground and outside the law.
Engage Legal Professional. Leave the stuff to the pros. A legal professional experienced in your domain will facilitate legal issues, carefully draw up Terms of Use, Privacy Policy, and other documents, and help to avoid mistakes that can lead the whole project to failure.
Start a PR campaign. The modern world runs on good first impressions. Running a PR campaign would help you to market your app in the right way, garner a favorable public opinion, project your brand image in an attractive manner, and market the app to your target customers.
Summary
International money transfer apps progressively displace traditional banks. Their ever-increasing popularity is driven by their convenience, lower fees, instant transactions, and ease of use. The adoption of such apps will continue, and new money transfer solutions will emerge as there is still room for new products on the fintech market.
Money transfer app development requires experience in the FinTech domain, a set of skills necessary to deliver to market a high-quality product, and substantive preparatory work. Yet, it's worth the effort since the market is rapidly growing due to ongoing labor migration. Got an idea and want to develop an international money transfer app? Itexus team is at your disposal. Contact us to turn your vision into a secure, feature-rich, and high-performing money transfer app.