The digital era has made raising funds for business ideas, nonprofit causes, or personal needs easier with the adoption of online crowdfunding platforms. According to Statista, the volume raised through equity-based crowdfunding worldwide amounts to $4.97 billion in 2021, and the global crowdfunding market size will reach $39.8 billion in 2026. As the demand for crowdfunding platforms is going up, we decided to talk about the matter in detail — crowdfunding software core players, business models, features, as well as the difference between custom-made fundraising solutions and ready-made ones.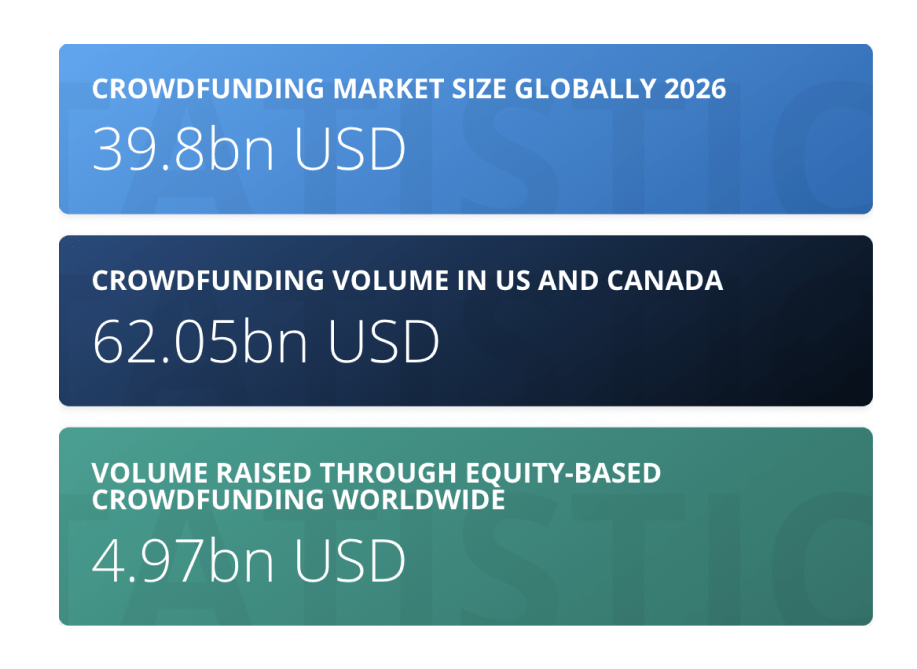 Crowdfunding Software Core Players
We've explored the 2021 crowdfunding platform market in search of the key players. Here are the top five based on several criteria, such as the history of generating fundraising success for their customers, the ease of use, the variety of pricing options, and social media integrations.
Kickstarter
Kickstarter was founded in 2009 and helped 500,000 projects to get monetary support. It is geared more toward creative projects like a new album or writing a book, and inventions like a personal single-wheel vehicle. Categories include Arts, Comics & Illustration, Film, Food & Craft, Games, Music, Publishing, and Design & Tech. The platform isn't suitable for buying equipment or helping a nonprofit, and you don't get to keep your money unless you reach your goal through financial pledges.
Indiegogo
This crowdfunding website helps to fund 800,000+ ideas all over the world since 2008.
Today, more than 15 million people visit the Indiego site where about 19,000 campaigns are launched every month. The platform is great for entrepreneurs and investors, allows you to integrate with other platforms, including Facebook and Google, and is open to worldwide operations. However, it charges a 5% platform fee plus a third-party payment processing fee.
Mightycause
Founded in 2006, Mightycause is one of the lowest-cost platforms, which makes it a tool of choice for nonprofits. It has already helped more than 150,000 causes attract the contributions they needed to meet their goals.
Mightycause is compatible with CRM systems, has media integrations, and its demo version can be requested for free. Nevertheless, a number of features (like CRM integration and event fundraising) are in the advanced, more expensive, plan.
StartEngine
The platform was founded in 2011, celebrated 500,000 users in 2021, has helped 375 businesses, and they have already raised $350 million. StartEngine is a standout option for those looking to get funding, invest, and get their share in the businesses you like. StartEngine allows everyday people to put their money directly into companies and startups they admire and get equity in return, for as little as $100 to start, depending on the share value listed for the given company.
SeedInvest Technology
This crowdfunding platform aims to provide a way for investors to back early-stage startups. Being founded in 2012, the platform has funded more than 500 companies and is a good choice for ventures needing startup capital. The website has a calculator to get an estimate of how much it might cost you to raise money using their platform. If your fundraiser isn't successful, you don't have to pay any fees.
Crowdfunding Company: Business Model
It's easy to get confused with so many crowdfunding sites working on different business models. We are here to help to get things straight. There are four main business models that differ in how they deliver value to customers and monetize that value.
Peer-to-peer (P2P) Lending
When backers get their money back with an interest.
This is the most popular business model because it allows you to lend and borrow money without dealing with traditional banks. Borrowers no longer need to go to a bank to get a loan or go through many financial checks. Backers, on the other hand, have more investment opportunities.
The platform usually performs a credit risk assessment, determines the credit rating, and adds an interest rate to a borrower's profile. Loans are repaid through the platform as well, and they can be integrated with a third-party system for handling transactions. A borrower pays an upfront origination fee (from 1% to 5%) which is used to process a loan and put it in place. This is where the P2P lending platform receives its income from.
Donation-Based
When a campaigner gets donations for nothing in return.
This is a growing model, particularly among charity and nonprofit crowdfunding platforms. The donors give because they want to support the person's idea or cause. Donations work well for startups, small businesses, personal goals, social and educational campaigns. They suit certain industries as well. For example, a real estate crowdfunding business model will unlikely be based on donations or rewards.
You could also allow donors to cover the fee that you're charging the campaigner. But, there are obvious pros and cons.
On the plus side, campaigners are no longer responsible for the fees, which will naturally attract more crowdfunding campaigns to your platform. Also, as a rule, there is no fixed, minimum, or maximum amount of money a donor should pour into your project. On the other side, you might risk alienating donors.
Equity-Based
When entrepreneurs are able to raise money for their business by selling off part of their company to outside investors in exchange for capital.
Companies that are not listed on a stock market get the money from a number of people who believe in the early idea of a product or a service, and those people become shareholders in the business.
This model is most popular with companies that have already been around the corner for some time. They launch a campaign in order to scale their business and are ready to give away a significant amount of the shares to the public.
Royalty-Based
When backers get a percentage of revenue from the project or venture they support, once it is generating capital.
For example, backers can support an app before it's fully developed and then share in the revenue once the app is launched.
This does not, however, make the backers shareholders in the venture. They are the participants of the funding and are only entitled to the royalties they will get from sales made.
Reward-Based
When a backer donates to a project or business with the expectation of receiving a non-financial reward in return.
In this type of business model, the backers supporting the cause or idea are given different types of rewards, such as goods or services, as a way of showing appreciation.
A typical scenario for an entrepreneur would be to create a minimum viable product and offer it to certain types of crowdfunding investors (aka supporters) in order to test the waters and figure out if a fully-fledged offering would make sense in the long run.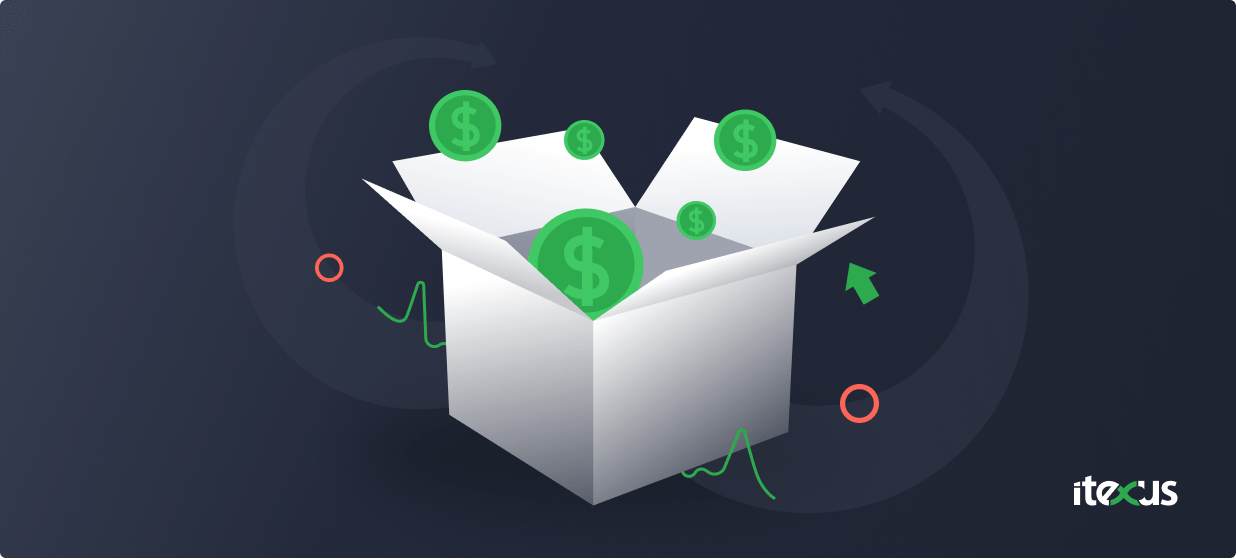 Custom-Made vs. Off-the-Shelf Crowdfunding Software
There's an abundance of off-the-shelf solutions on the market. Yet a lot of businesses prefer custom crowdfunding platform development. And here's why:
A custom crowdfunding website allows a hybrid model, where people can choose the mode of engagement. Most of the ready-made platforms confine users to a certain business model.
The platform includes any set of features required and enables you to manage customization. Off-the-shelf solutions have a limited set of functions.
It is easier to upgrade. You should consider the flexibility in possible integrations with your existing programs and databases. With out-of-the-box solutions, it is challenging due to the lack of the necessary features.
You have ownership of the software. It means you are not dependent on third-party decisions to change. Using a ready-made platform, you should be ready to pay extra money for the subscription or extra features.
Must-Have Features for Crowdfunding Software
We have rendered our expertise in custom crowdfunding app development to select the most essential features every platform should have.
Easy Sign In/Sign Up and Application Processes
The entire interaction happens on the website, so offering a seamless user experience right from the sign up and sign in steps will give you a competitive edge. Your clients (fundraisers and investors) should not get puzzled when they come to your platform for the first time.
KYC Identity Verification
A crowdfunding platform should provide reliable and effective means of verifying the identities of potential donors and stay KYC compliant. It ensures that documents can be matched with the person reducing the chances of money laundering and identity theft.
There are lots of scalable identity verification solutions on the market to deal with money-laundering attempts. Such protective measures are needed to detect potential frauds and terrorist financing, which these platforms can be exposed to.
Data Security
Developing an online platform that involves personal data and financial information is a challenge in many ways. While the interaction with the platform must be flawless for the clients, their private information must remain secure, therefore crowdfunding platforms should take extra safety measures to protect clients:
implement feasible security technologies (AI/ML, cryptography, etc)
be compliant with privacy regulations (such as GDPR and CCPA)
partner with vetted third-party providers
invest in security issues discovery (advanced identity, automated policy management, access management).
Intuitive Design
A clean design, intuitive navigation, and transparency are the top aspects needed for a good crowdfunding platform. It will ensure long-lasting relations with the audience. We also believe that having crowdfunding tips for campaigners and investors that explain the application process and funding will be a valued feature of the website.
Effective Account Management
Account management should be smooth and straightforward so that neither of the parties racks their brain on what's going on with the campaign, who has donated, and how much is raised. The section should include an investments chart, progress bar, transactional records, recharges, withdrawals in the account management section, reports, and dashboards.
You need to process dozens of inputs coming from people and organizations that choose the platform to pitch their startup ideas. That's why it's essential for your crowdfunding portal to be feature-rich to cater to those business needs.
Transaction Management
Your crowdfunding website should allow for centralized management of all payments. Users should be able to receive and secure funds from many countries and automatically reconcile their payment flows.
The concept of crowdfunding thrives on payments and donations, which is why you need to provide a well-established payment gateway suitable for your business model.
It is also important to configure your relevant crowdfunding software to accept multiple currencies, which gives the competitive edge over the projects that don't. What's more, accepting an extensive range of currencies will help you attract more people willing to contribute.
Tax Reporting
Investors will likely be obliged to pay sales tax and income tax for their crowdfunding campaign. It is especially true if your campaign is based in the US. Platforms can report investment income to the appropriate tax authorities, helping investors both save time and ensure they are correctly and on-time reporting their income.
Support and FAQ section
It may be difficult to understand all the possibilities of a crowdfunding platform at once. That's why a professionally designed and managed knowledge base will help users to understand platform features.
Backend Project Management
You need to take care of the list of rewards, revenue generated, and commission being earned. Powerful report generation is a must for effective platform management. If there is no analytics, the portal creator will find it very difficult to make the project changes when needed.
The layout for the back-end of the crowdfunding platform features should be a bundle of some great management tools: an analytical dashboard with pending users, projects, and donors; the total number of users, funds and returns information, and payment logs with the relevant safe and secure gateways.
Summary
Custom crowdfunding software development ensures you have a competitive edge over other platforms, as it provides a unique set of functions that maximally solve your problems or those of your users. Need a reliable software partner to craft a secure and feature-rich crowdfunding platform? Reach out to discuss your idea and clarify how Itexus can help you to meet your business goals.