Algorithmic Intraday Stock Trading System – Stock Trading Bot
SaaS system for automated intraday stock trading, allowing investors to connect their brokerage account and configure a robot to trade stocks from their account automatically for a commission and subscription fee.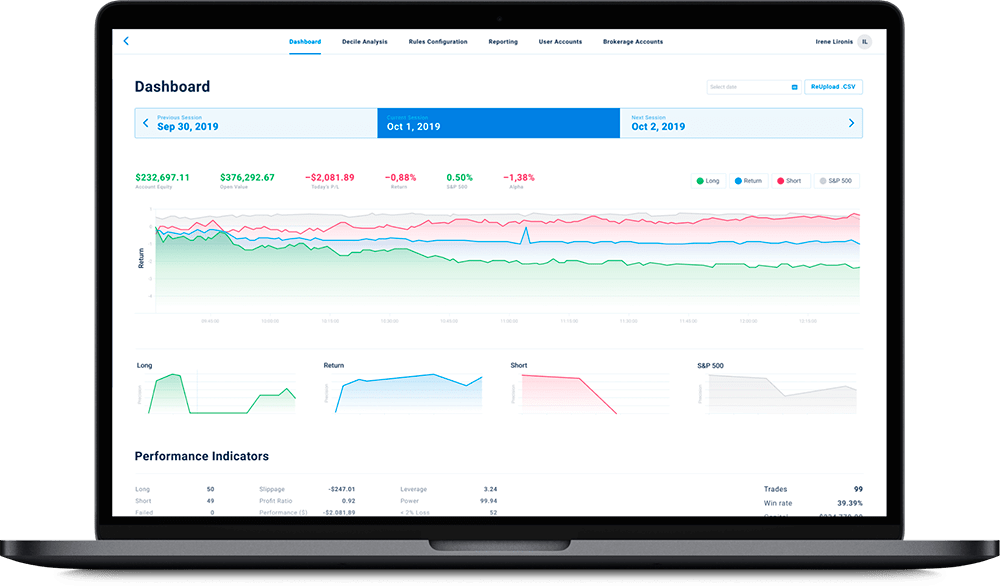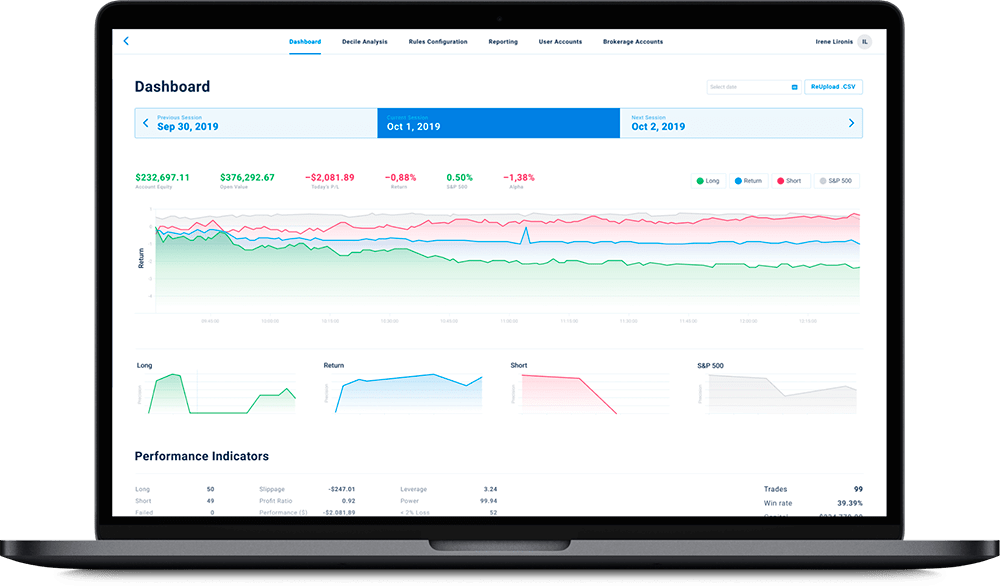 Client's request
The client is a wealth management company with 20 years of experience and their proprietary active stock trading strategy. The client wanted to digitize his business to increase the customer base, augment profits from trading and decrease the cost of operations by creating a SaaS system that would automate the trading strategy and operations.
The client contracted Itexus for the system's development because he was impressed by our expertise in the financial/stock markets domain, the ability to quickly grasp complicated financial requirements and readiness to commit to a very aggressive deadline (3 months to create and launch the MVP). A holistic approach to software architecture and experience with high-load real-time applications were other crucial factors to choose Itexus as a development partner.
Engagement model
Fixed Price for the MVP stage, Agile/Scrum for other stages.
Solution
Web Application
Effort and Duration
3 months to create and launch the MVP
Project Team
3 Developers, 1 Business Analyst, 2 QA Engineers, 1 Project Manager
Tech Stack
Solution Overview
The system allows clients to register and connect their brokerage account, configure the trading strategy's parameters such as buying power, leverage, risk level, etc., run automated trading from their brokerage account, monitor trades in real-time and review the profit/loss reports. For this, they pay a commission fee and percentage of the generated profit.
In background, the system uses technical analysis to generate forecasts for certain stocks for the next trading session, opens short and long positions according to the forecasts, monitors real-time execution set by complex rules, closes the positions that don't perform properly and fixes profits at the end of each trading session.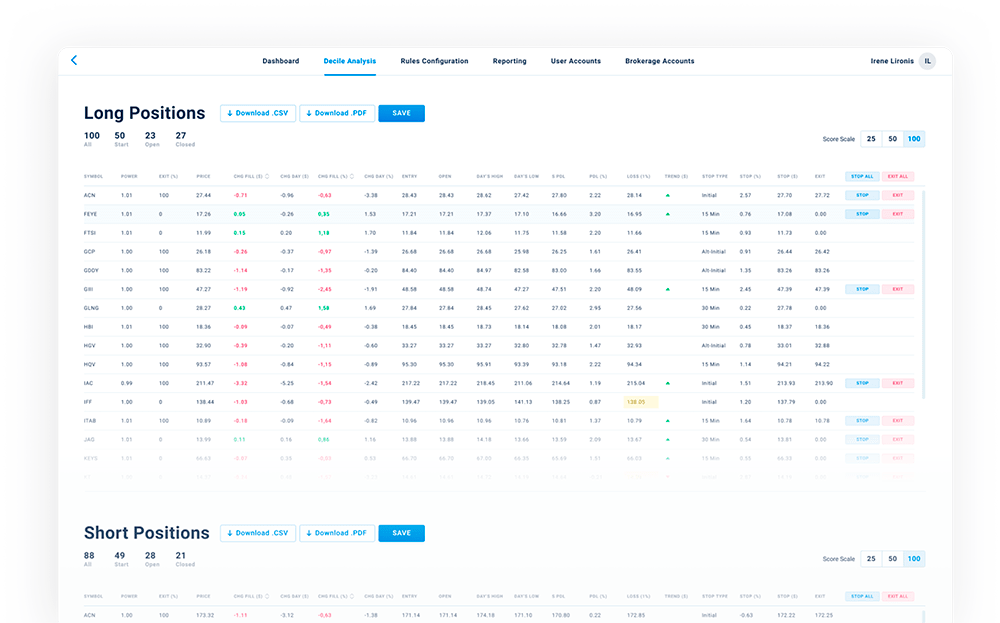 Development Process
The project started with a fixed scope/fixed price/waterfall phase with a very aggressive deadline. The system had to be live in 4 months because of the tight end-client constraint. To meet the deadline the team had to work on the requirements specification in parallel with the implementation of the system.
When the system itself was implemented and stabilization phase started the Client advised that because
of heightened customer's interest they would like to be ready to go live with onboarded customers a few weeks earlier the deadline – 1st trading session of the New Year (meaning 1st of January 2018). The team empathetically reacted to Client's request and system stabilization and real funds testing was performed in New years eve. So 1st of January 2018 we were live for NYSE and NASDAQ.
Once the first version of the system was completed and live, the team switched to Kanban to support it and deliver new functionality and updates.
Technical Solution Highlights
The architecture of the system is defined by very high performance requirements. Trading opportunities may appear and disappear in a fraction of a second, so the system has to process massive volumes of data simultaneously to react the market events in real-time.
Technology Stack and Components
Microsoft .NET, C# and Microsoft Azure and SQL Server were selected as a mature, well supported, enterprise-grade technology stack.
React.js and SignalR were chosen to implement a rich real-time web interface of the system. Open source QuantConnect/Lean Engine component is used to reduce the cost and time to market factors. It features powerful adapters and connectors, which provide for simple implementation of trading algorithms, backtesting, and connection to the broker API.
Interactive Brokers' API and Gateway were used to process live trading data and send trading orders to the market.
Low Latency Data Processing
The system is experiencing its peak load in the first seconds of the trading session when large volumes of data have to be processed, all positions opened at the right price, and trading orders should arrive in the brokerage account before the price changes.
To ensure quasi-real-time performance, the system uses parallel computation in multiple threads with asynchronous event processing queues to fully utilize multi-core multi-processor server instances.
Horizontal Scalability
The system is able to automatically fire up additional server instances as the number of accounts and the volume of data increases.
Real-time UI
The admin interface of the system has detailed real-time charts and alerts with current prices, statuses of trades, etc. which allows the administrator to monitor the trading session in real-time and manually close the position in case of an emergency.
The interface features the implemented SignalR library, which allows server code to send asynchronous notifications to client-side web applications.
Automated Testing and Broker API Emulation
To allow automated testing of the application, our team created a Broker API emulator that allowed us to record and playback the trading session for selected securities. This was done because of the Interactive Brokers' paper trading account limitations: it allows to run app tests only once a day in parallel with the real trading session and has a number of other peculiarities, which would result in different system's behavior in paper trading and in live accounts.
Results
The first version of the platform was delivered in full compliance with the specifications and the client's deadline. In 3 months after the project's start, the system was live and available to real end-clients, trading with real money.
The system allowed to significantly lower the operational costs by reducing manual labor of expensive personnel and to scale the business to handle hundreds and potentially thousands of clients.
The project is still underway, and Itexus provides support and maintenance services and is working
on future versions of the system which is evolving into an advanced wealth management and personal finance solution with the active intraday trading module as just one of its components.
One-Page Website for a Wealth Management Platform
One-Page Website for a Wealth Management Platform
Fintech
Website development
One-page website designed to build brand awareness and attract a loyal audience before the platform release.
Credit Scoring SaaS App for Financial Organizations
Credit Scoring SaaS App for Financial Organizations
Fintech
Credit Scoring
Machine Learning
The system is a SaaS platform allowing the client to evaluate solvency and reliability of the potential borrowers using statistical methods of analysis of the historical and nontraditional data sources such as social network profiles and others. It allows the client to upload his normalized and anonymized database of previous loans data, build mathematical models and calculate the credit score of the future potential borrowers entering their data through the system's web interface.
Design for Mobile Banking App for Migrants
Design for Mobile Banking App for Migrants
Itexus was assigned to craft a neobank solution intended to serve the needs of a certain US banks' audience segment – migrants. The app was expected to facilitate monetary transactions like financial help to families, getting paychecks early, microloans, etc.
Developing a fintech solution implies addressing certain design challenges owing to the industry specifics. In this case study, we cover the design phase of the solution development.
Money Saving and Personal Finance Assistant App
Money Saving and Personal Finance Assistant App
A money saving app that enables users to track spendings and monitor balances of linked credit cards and bank accounts, plan their finances, and automatically transfer money to savings or brokerage accounts. The app helps develop healthy financial habits with gamification features and supports viral marketing with social functionality.
Digital Insurance Marketplace with Recommender Engine
Digital Insurance Marketplace with Recommender Engine
Fintech
Insurance
Healthcare
Online marketplace that connects insurance brokers, insurance companies and the end customers. The definite feature of this marketplace is automation of information exchange and key business processes such as customer acquisition, underwriting and claims management. Featuring a recommender engine that is assessing client's information and suggesting the best fitting insurance plan.
App for Getting Instant Loans / Online Lending Platform for Small Businesses
App for Getting Instant Loans / Online Lending Platform for Small Businesses
Fintech
Credit Scoring
Machine Learning
Digital lending platform with a mobile app client fully automating the loan process from origination, online loan application, KYC, credit scoring, underwriting, payments, reporting, and bad deal management. Featuring a custom AI analytics & scoring engine, virtual credit cards, and integration with major credit reporting agencies and a bank accounts aggregation platform.
AI-based Financial Data Management Platform
AI-based Financial Data Management Platform
The platform automates key-decision making process with AI-based predictive modules reflecting the credit cycles. This financial platform is equipped with rich data streaming, processing, and reporting capabilities to provide real-time on-demand data.
Contact Form
Drop us a line and we'll get back to you shortly.
For Quick Inquiries
Offices
Australia
Level 20,109 Pitt Street, Sydney, NSW, 2000
Belarus
20a Internacionalnaya Street Minsk 220037
x
Something went wrong!
Try one more time!
The Itexus Team